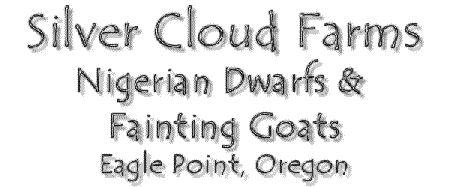 "Barnyard Rocks" are important for playful fainter kids!

Welcome! We are a small farm out in Oregon that raises Nigerian Dwarfs, American Fainting Goats, and Dwarf Nubians. They are all great fun. We also have 4 two legged kids that keep us very busy!

At the Silver Cloud Farms we live in a sunny little valley overlooking Eagle Point on 5.6 acres. It is a little rocky but the goats LOVE it!

We take pride in the overall health of our goats, so we vaccinate, disbud, trim hooves, worm regularly, and yearly test for CAE. We also split the cost of the vet check on every goat shipped to show we stand behind the health and quality of our herd.

We have many kids of each breed available from March to July of each year. Silver Cloud Farms will ship nationwide and kids are available each Spring and Fall. Contact us to receive a current price list. Email us at: gardenangel@ccountry.net
Or give us a call: 1-541-601-2070.
Note: New phone # as of February 2003, in case you may have been calling the old one.


"Good help is hard to find."

click to subscribe to american farmers wife

This The Fabulous Fainting Goat Web Ring site owned by Cynthia Pollock .
[ Previous 5 Sites | Previous | Next | Next 5 Sites | Random Site | List Sites ]

Since August 1999 Silver Cloud Farms has hosted
guests.
Last update completed August 2003.
Thank you for visiting.